Hey there! Are you ready to take your wrist game to the next level? Wait up! We are not just talking about wristwatches…
When it comes to decking out your wrist with a bit of extra sparkle, there's nothing quite like a diamond bracelet to add the extra oomph of glamour. Diamond bracelets are an excellent accessory to enhance your wrist look.
It is a timeless piece of jewellery that has been worn for centuries. Diamond bracelets for women are versatile and can be styled in various ways to complement your every outfit.
However, styling can be tricky. Also, why settle for just one diamond bracelet when you can personalize, mix, and match them for a unique and fashionable appearance? Fear not, jewel junkie!
Diamond bracelets add bold flair, subtle shine, or both to an ensemble. It can elevate your everyday look effortlessly. So, let us plunge into the world of diamond bracelets for women & make you stand out from the crowd. Here are 7 magnificent ways to rock diamond bracelets like a true style maven.
Choosing the Right Diamond Bracelet for Your Style
Before we dive into the different ways to style diamond bracelets, it is essential to choose the right one for your style. Consider your taste, the occasion, and the outfit you plan to wear it with. Here are some things to keep in mind when selecting a diamond bracelet:
Size and fit: Make sure the bracelet fits comfortably on your wrist and isn't too loose or tight.
Type of bracelet: Choose a style that suits your personality and the occasion, such as a classic tennis bracelet for formal events or a charm bracelet for a more casual look.
Diamond quality: The quality of the diamonds in the bracelet can affect the overall appearance and value of the piece. Look for diamonds with good colour, clarity, and cut.
Metal type: The metal used in the bracelet can affect its durability and appearance. Consider your skin tone and preference when choosing between gold, silver, platinum, or stainless steel.
7 Ways to add Sparkle to your style with Diamond Bracelets
1. Pair your Diamond bracelets with a watch
Wearing a diamond bracelet with a wristwatch is a classic look that exudes luxury and style. Choose a watch and bracelet with similar metals and diamond cuts to create a balanced look.
If you have a statement watch, use a simple rose gold diamond bracelet to complement it. You can also wear a diamond tennis bracelet with a wristwatch for an extra touch of refinement.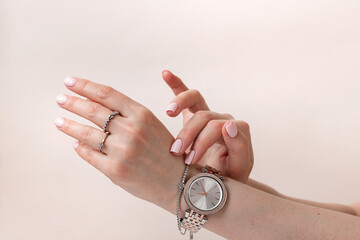 2. Dress up a casual look
Diamond bracelets are not just for formal occasions. You can add a touch of glam to your everyday outfits. Pair a simple diamond tennis bracelet with a t-shirt and jeans for a chic and effortless look, or a denim jacket or leather vest for an edgier look.
3. Layer with other bracelets
Who says one diamond bracelet is enough? Layering is the game's name for adding bling to your wrist. Start with a simple diamond chain bracelet as your base and build from there. Add a few chunky cuffs and a beaded bracelet, and voila! You have got a layered look that is both on-trend and timeless.
4. Classic Stacked Look
It should not be confused with layering. Bracelet stacking is all about piling on bracelets of the same style for a bold and impactful look. Stack multiple diamond bangles or tennis bracelets for a look that's as chic as it is daring. The key here is to keep the rest of your accessories minimal to let your bracelets steal the show.
5. Mix and match metals
Gone are the days of matching your diamond bracelets to your outfit. Embrace the eclectic by mixing and matching different styles and metals for a unique look that's all your own. Pair a delicate rose gold tennis bracelet with a chunky silver bangle for an unexpected twist that's sure to turn heads.
6. Wear a statement look
Wear a bold, eye-catching diamond bracelet as the centerpiece of your outfit. Opt for a cuff or wide diamond bracelet to sparkle your look. A statement bracelet adds sophistication to any outfit and is perfect for weddings, galas, or even a night out.
7. Personalization
encompasses the fusion of diamond bracelets with personalized trinkets or engravings that hold special meaning to you. It could be a bracelet with your initials or a pendant symbolizing a significant moment in your life. The approach adds a sentimental touch to your stylish and meaningful look.
Happy Styling!
Now you have 7 fabulous ways to style your diamond bracelets like a true fashionista! The styling possibilities are endless, whether you opt for a classic diamond tennis bracelet or a bold cuff bracelet.
If you're looking for a unique and custom-made diamond bracelet, Zevaraati is the perfect destination. As one of the best custom jewellery designers in India, we offer top-notch craftsmanship, high-quality diamonds, and exceptional customer service.
So, don't be afraid to experiment with different styles and have fun with your diamond bracelets. Discover the endless styling possibilities and start shining bright like a diamond today!