Timeless Indian Diamond Jewellery Designs
Indian jewellery is traditionally known for its ornate designs and intricate embellishments, often featuring multiple colours and a wide range of gemstones. However, in recent years, minimalism has emerged as a popular trend in Indian jewellery, particularly in the use of diamonds.
Minimalistic Indian diamond jewellery designs typically feature simple, clean lines and a focus on the quality of the diamond itself rather than on elaborate designs or additional adornments. These pieces are often designed to be worn daily and can be paired with various outfits, from casual to formal.
How is Indian Diamond Jewellery Designs Evolving with Timeless Simplicity?
Jewellery has always been an essential aspect of Indian culture, representing tradition, exquisiteness, and elegance. Diamonds hold a special place in every woman's heart, symbolizing strength, power, and beauty.
Diamond Jewellery Collection holds a lot of significance, both culturally and aesthetically. It symbolizes status and wealth and can be passed down through generations. It is versatile and can be worn with both traditional & contemporary outfits, making it a practical investment piece that can be worn for years.
Personal expression and style can be achieved by adding sparkle to an ensemble while maintaining individual style.
Let's explore some of the minimal Indian diamond jewellery designs you should consider adding to your collection.
Top 5 Must-Have Minimal Indian Diamond Jewellery Designs
Diamond Stud Earrings
Diamond Stud earrings are essential in every woman's jewellery collection. It is simple yet elegant and can be worn on any occasion, whether a formal event or a casual outing. Diamond studs come in various shapes and sizes, from classic round cuts to more contemporary silhouettes like princess or cushion cuts. Choose the one that suits your style and preference.
Diamond Rings
A diamond ring symbolizes love, commitment, and panache and can be worn at any event. Minimal diamond rings are simple yet elegant pieces of jewellery that feature a single diamond or cluster of tiny diamonds set in a simple rose gold or silver band.
Some popular designs include solitaire, three-stone diamond rings, diamond band rings, halo, and bezel-set diamond rings. The rings can be made in various metals and customized to suit individual preferences and budgets.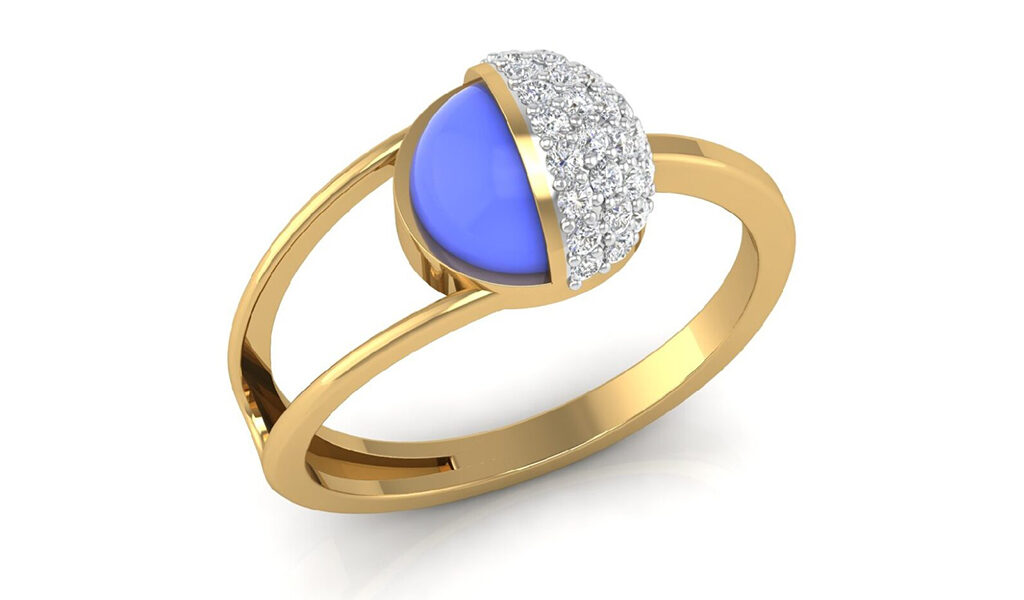 Diamond Pendant Set
Women should have a diamond pendant necklace and modest diamond jewellery. It features a single diamond set in a rose gold or silver chain, adding just the right amount of glitz and grace to any outfit.
It can be worn alone or with other necklaces to create a unique and stylish look. Different designs, such as solitaire, cluster, or diamond, can be chosen in distinctive shapes.
Diamond Bracelets
Minimal Diamond bracelets are delicate and versatile pieces of jewellery that can be worn alone or stacked with other bracelets for a trendy look. It comes in various designs, such as tennis, bangle, and charm, and can be customized to suit any taste. It adds sparkle to the wrist.
Diamond Nose-pins
A diamond nose pin is a popular jewellery item in India recently gaining popularity. Minimal diamond nose pins are a popular choice for those who prefer simple and elegant jewellery for their nose, typically featuring a single diamond or a few small diamonds set in a plain metal design.
It can be made in various metals and tailored to individual personalities.
Timeless Beauty!
Minimalistic Indian diamond jewellery designs have become a wardrobe staple for women of the country
So, if you want to add some sparkle to your collection, head over to Zevaraati, India's custom diamond jewellery designer. Our bespoke Indian diamond jewellery designs ensure that you stand out in the crowd while remaining comfortable and chic.
Add enduring style to your collection by investing in beautiful minimalistic diamond jewellery today!