Table of Contents
Mothers have the qualities of superwomen – they are our sources of strength, guidance, and companionship. Their unwavering love and care know no bounds, as they selflessly give without expecting anything in return.
International Mother's Day is the perfect time to show appreciation and gratitude for all our mothers do for us. However, a simple "thank you" cannot truly capture the depth of appreciation we should have for our mothers.
Though delightful, gifts like flowers, cakes, and chocolates last only a few hours or days. Why not go the extra mile this year and surprise your mother with a unique gift? This Mother's Day, consider buying something special and meaningful, like gemstone jewellery for Mom that she can cherish forever.
Significance of Gemstones Jewellery
Gemstone jewellery holds a special significance, making it a thoughtful and meaningful gift to express love and appreciation for your mother. Gemstone is not just about fashion and aesthetics; it carries a deeper importance. Each gemstone is believed to possess unique properties that can enhance physical, emotional, and spiritual well-being.
Buying gemstone jewellery for Mom this Mother's Day will add a touch of elegance to her style. It will also symbolise your care and consideration for her health and happiness.
Some Precious Gemstones:
Ruby symbolises love and strength,
Sapphire represents wisdom and loyalty,
Emerald signifies hope and growth,
Diamond symbolises purity and eternal love.
Special Gemstone Jewellery for Mom
Gemstones offer great versatility and can be effortlessly used in various jewellery styles and designs, bringing forth their vivid colors, sparkle, and charm.
Pendant
Pendants are popular among women, as they can add a touch of elegance and sophistication to any outfit. Gemstones like diamond, ruby, sapphire, pearl, or garnet can be set in pendants to create beautiful and eye-catching necklaces for your mother, with the gemstone as the centerpiece or throughout the necklace.
Ring
Mothers often wear rings as a symbol of their love and affection for their children. You can gift your mother rings with gemstones to add colour, sparkle, and beauty to their life.
Popular ring styles include solitaire rings (single gemstones), cluster rings (multiple gems in a cluster), eternity bands (gemstones encircle the band), and more.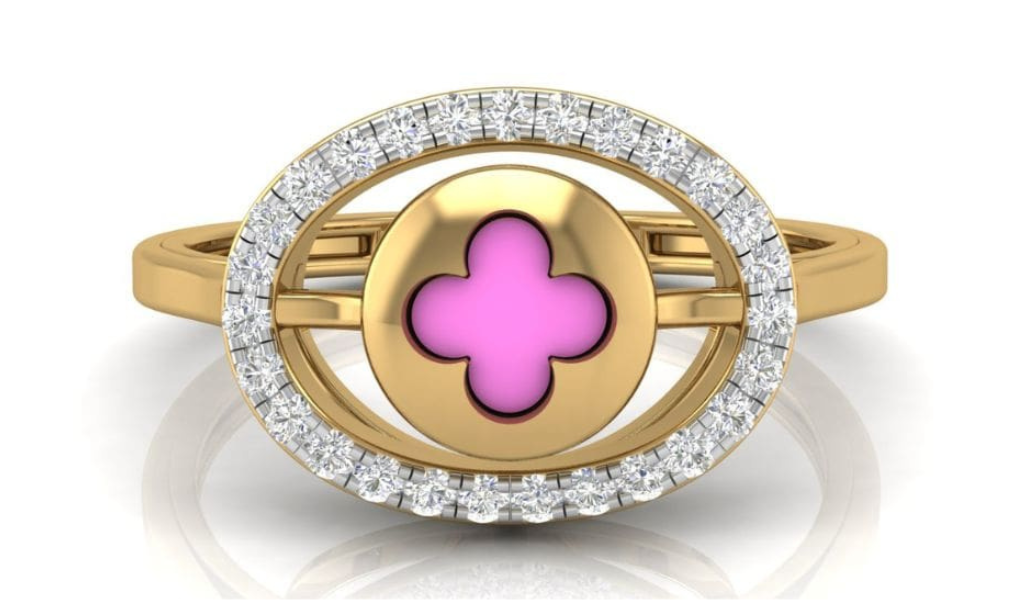 Bracelet
Bracelets are a popular form of jewellery worn by women for centuries. A range of designs are available for bracelets, including tennis, bangle, and charm, and they can be customised as per personal choices.
Bracelets with gemstones are thought to provide healing, protection, or good luck to the wearer. So, buying bracelets as gemstone jewellery for mom is meaningful and special. Some commonly used gemstones in bracelets are amethyst, rose quartz, and turquoise.
Brooches
You can also gift your mom gemstone jewellery in the form of brooches. Gemstones can be used in brooches to add a touch of sparkle and color to jackets, coats, or scarves. Brooches featuring gemstones can range from classic and elegant to bold and modern, making them a versatile addition to any wardrobe.
Hair Accessories
If your mom is fond of hair accessories or hairstyles, you can also gift her hair accessories with gemstones. These can be a beautiful addition to any hairstyle, adding an extra touch of glamour and sparkle. Gemstone hairpins, barrettes, headbands, and hair cuffs are popular options.
Earrings
Another gemstone jewellery for mom is earrings that feature precious or semi-precious stones as their centerpiece. Some of the most popular gemstones used in earrings include diamonds, emeralds, rubies, sapphires, amethysts, and topaz.
Gemstone earrings are available in various styles, from simple studs (for everyday looks) to more elaborate designs (custom jewellery designs for weddings). They make a great gift for your mother, which she can wear on any occasion.
A Memorable Gift for Your Beloved Mom
There's no better way to show your love and appreciation for your mother than to surprise her and buy special gemstone jewellery for your mom this International Mother's Day. The elegance, beauty, and uniqueness of gemstones make them an ideal gift to symbolize the depth of your emotions for your mom.
At Zevaraati, a custom jewellery designer in India, we offer a wide range of exquisite gemstone jewellery crafted with the highest quality and craftsmanship to ensure your mom feels cherished and loved.
Don't wait any longer; choose bespoke gemstone jewellery for Mom that she will always adore. We can also design custom jewellery that is unique and tailored to your or your mother's preferences. Show her how much she means to you with a gift that will last a lifetime.
Make this International Mother's Day a day to Remember!